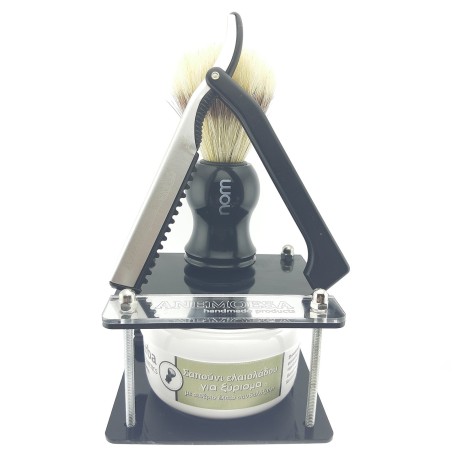  
Shaving soap
Reference: 5210146000542

Instant Delivery / Shipping in 1 to 3 working days
The handmade olive oil soap with sandalwood, is prepared in the traditional way and more specifically
with the method of cold saponification. In the hot saponification method, the products are immediately
available for use, because they undergo heat treatment, but the oils and butters lose their beneficial
properties.
On the contrary, in cold saponification we protect the properties of our raw materials and in order to
eliminate caustic soda, an essential ingredient for saponification, our soaps must remain for at least 2-3
months on the curing counters to be ready for use.
The traditional shaving soap contains first quality essential oils, vegetable oils, butters and various other
ingredients and herbs from the Greek market. The result, of course, is a handmade soap of exceptional
quality, which is suitable for the face, ideal for deep cleansing and hydration.
Shaving soap ingredients: Olive oil, coconut oil, almond oil, palm oil, chamomile extract, sandalwood
essential oil, water & baking soda.
80gr
Suitable for sensitive skin.
Barcode 5210146000542
14 other products in the same category: