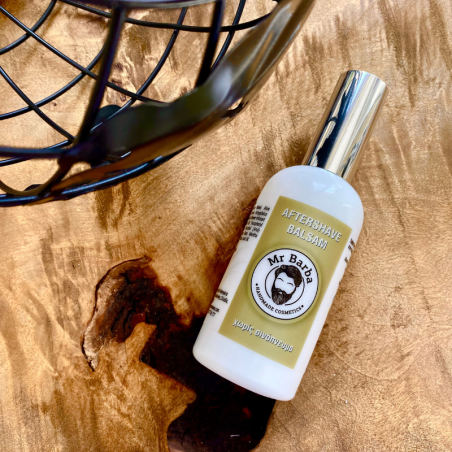  
Aftershave balsam
Reference: 5210146000931

Instant Delivery / Shipping in 1 to 3 working days
The perfect ending to a traditional shave. Aftershave Balsam, soothes, soothes and rejuvenates damaged
skin after shaving.
This cream is made with 100% natural ingredients. It does not contain alcohol and relieves redness and
dryness of the skin thanks to the combination of chamomile and Aloe Vera gel. A mild gel suitable for
men with sensitive or irritated skin. Contains calendula oil, almond oil, Vit. E, chamomile distillate, Aloe
Vera gel, mint & mint essential oils and perfume, ingredients that protect and nourish irritated skin.
Ingredients Aftershave Balsam: Calendula oil, almond oil, Vit. E, chamomile extract, Aloe Vera, Essential
oils mint & mint and aroma. Coagulant medium gum xanthan and preservative Microcare DB.
100ml
Use: After shaving, apply a small amount on your palm and apply on face and neck in circular motions.
Alcohol-free, ideal for nourishing the skin and immediate relief from irritation.
Barcode 5210146000931
13 other products in the same category: