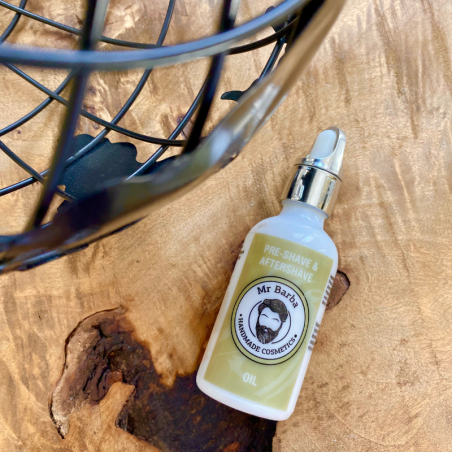  
Preshave & Aftershave oil
Reference: 5210146001020

Instant Delivery / Shipping in 1 to 3 working days
He came to give the solution in the hands of men. Unique product for before and after shaving Preshave
& Aftershave oil.
Before shaving, it softens the beard, minimizes irritation and, thanks to its composition, is easily absorbed
by the beard.
The pre-shave oil is suitable for all skin types, for soft or hard beards. It is ideal for those who have a hard
beard or sensitive skin!
After shaving, it soothes, tones and keeps the skin soft, while thanks to the active ingredient Dragon's
Blood, it has a strong healing and regenerative effect on wounds, scars and scars, while increasing the
elasticity of the skin.
It is easily absorbed by the skin.
Ingredients: Almond oil, vit. E, active ingredient Dragon's Blood, avocado & macadamia oils, castor oil,
room. sandalwood oil and macadamia & cocoa aroma and preservative widely used in organic cosmetics
50ml
Application: Shake well before use, apply 8-10 drops on fresh skin a few minutes before shaving to
reduce irritation and after shaving to moisturize and regenerate the skin.
Suitable for all skin types.
Barcode 5210146001020
13 other products in the same category: