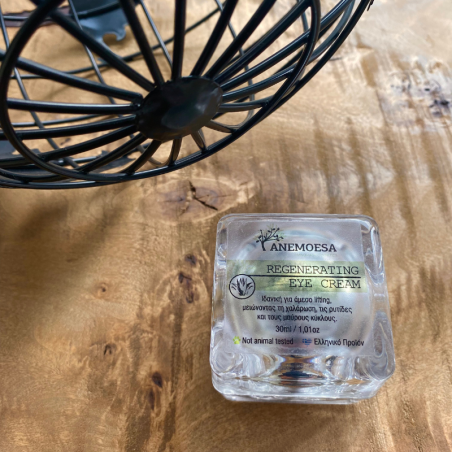  
Eye rejuvenation cream
Reference: 5210146000955

Instant Delivery / Shipping in 1 to 3 working days
Ideal for immediate lifting, reducing sagging and wrinkles from the very first application. Thanks to the 100% natural active ingredient Cobiolift, which contains quinoa polysaccharides, it eliminates the "goose foot" and reduces dark circles, while creating a protective film that prevents moisture loss, keeping the skin hydrated, firm and youthful.
Pomegranate extract has a strong antioxidant effect, binds free radicals and prevents the appearance of new wrinkles and signs of premature aging, while hyaluronic acid increases the firmness and elasticity of the skin.
Ingredients eye regenerating cream: Beeswax, aloe gel, vitamin E, rose water, shea butter, coconut oil, jojoba oil, pomegranate extract, hyaluronic acid, active ingredient cobiolift, room. Lavender oil & preservative Microcare DB.
30ml
Use: apply at night on clean skin, around the eyes.
Barcode 5210146000955
16 other products in the same category: