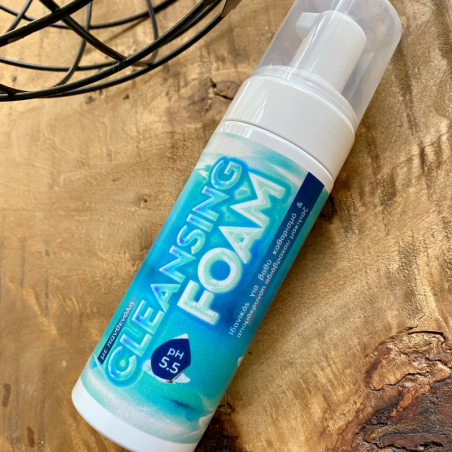  
Cleansing foam (de make - up)
Reference: 5210146007954

Instant Delivery / Shipping in 1 to 3 working days
Facial Cleansing Foam
Thanks to its rich composition, it deeply cleanses the skin, removing make-up, while at the same time maintaining its hydration and elasticity, giving it shine and freshness.
Glycerin is ideal for cosmetics as it offers emollient properties and enhances skin hydration.
Cocoyl methyl glucamide (or known as Glucotain Care) is a non-ionic surfactant with good cleansing power for the skin that offers a pleasant and mild emollient action and provides a pleasant, soft and stable lather. Particularly suitable for sensitive and dehydrated skin, due to its gentle action on both skin proteins and lipids.
Cocamidopropyl betaine is used as a very mild amphoteric surfactant in skin cleansing products. It is used as a foam enhancer, which is creamier, richer and stable over time.
Panthenol or provitamin B5 is an active ingredient that is mainly used as a moisturizing agent in pharmaceutical and cosmetic products. It is an essential component of the skin, as it stimulates wound healing, strengthens the restoration of the skin barrier & accelerates cell renewal.
Ingredients: Glycerin, Glucotain Care surfactant, Cocamidopropyl Betaine surfactant, panthenol, lavender essential oil and preservative widely used in organic cosmetics.
Weight: 150ml
Deep cleaning
Waterproof make-up removal
Intense foaming
Lavender scent
Use:
Add a small amount of cleansing foam to a wet face, gently massaging in circular motions to cleanse your skin. Then, use a cotton pad to remove the makeup and rinse your face with plenty of water.
PH=5.5
For all skin types.
For external use only.
16 other products in the same category: