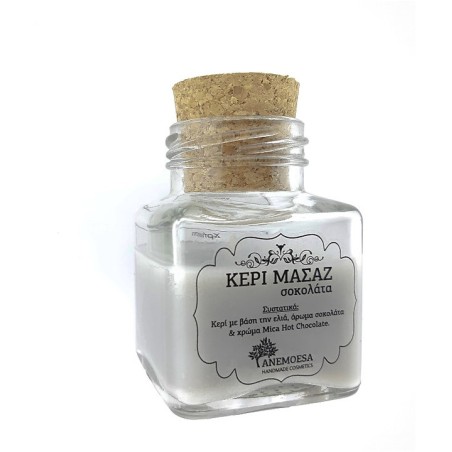  
Massage candle
Reference: 5210146000191

Instant Delivery / Shipping in 1 to 3 working days
Melt in the pleasure with the massage candle…
Light the aromatic massage wax, based on the olive (not paraffin), and wait 2 minutes until it melts and transforms into a massage oil. The space will be filled with the wonderful aroma of hot chocolate or the cool aroma of grapes or peach-mango.
Extinguish the candle and use the hot oil on the palm offering a relaxing massage.
The feeling of warmth as the hot wax spreads on our skin, in combination with the texture of the oil and the enchanting aroma, creates a sweet atmosphere.
The melted wax is absorbed directly by our skin, giving hydration and relaxation.
Ingredients: Olive based massage candle, in 3 impressive options:
chocolate aroma & color mica hot chocolate.
Grapes & Blueberry fragrance and Mica Dreamy Aquamarine color.
peach-mango aroma and Sangrla color.
What makes it different:
100% natural, based on olive and not paraffin, like most of the trade.
In 2 minutes after lighting, the candle is transformed into massage oil.
Relaxing feeling of warmth.
Immediate absorption by the skin, giving hydration and relaxation.
Suitable for all skin types.
60gr
Barcode chocolate: 5210146000191
Peach-mango barcode: 5210146000177
Barcode grape: 5210146000214
16 other products in the same category: