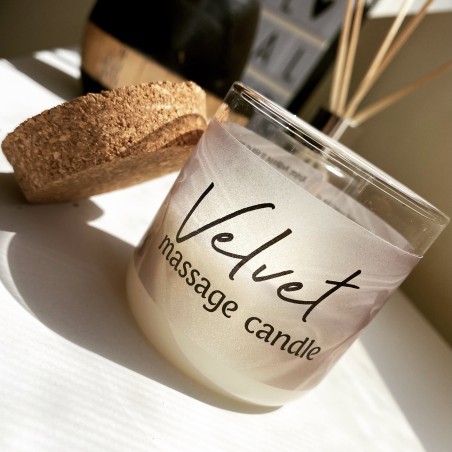  
Velvet massage candle
Reference: 5210146007657

Instant Delivery / Shipping in 1 to 3 working days
Melt into pleasure with the herbal massage wax "Macadamia & Cocoa". Massage wax from vegetable oils & butters
Ideal for:
Massage & aromatherapy
Deep hydration & regeneration of the skin
Relaxation & wellness
What sets it apart:
It is 100% natural, from oils and butters and not paraffin, like most of the commercial ones
In 1 minute after lighting, the wax has transformed into massage oil giving you time to massage and at the same time it is absorbed instantly
Unique long lasting Macadamia & Cocoa scent
Hydration up to 24 hours!
A unique experience of relaxation and well-being
Direct absorption from the skin
Suitable for all skin types
Use:
-Light the scented massage candle and wait 1 minute until it melts and transforms into massage oil. Fill the space with the unique aroma of macadamia & cocoa and elevate the senses.
-Extinguish the candle and use the warm oil on the palm offering a relaxing massage.
"The feeling of heat as the warm wax spreads on our skin, combined with the texture of the oil and the enchanting aroma creates a UNIQUE atmosphere."
-The melted wax is absorbed immediately, giving at the same time the time to do the massage.
-The feeling on the skin until the next day is incomparable.
Live the experience!
Ingredients: Shea butter, almond oil, macadamia oil, soy wax & macadamia & cocoa aroma.
60 ml
Barcode: 5210146007657
For external use only.
Customers who bought this product also bought:
16 other products in the same category: