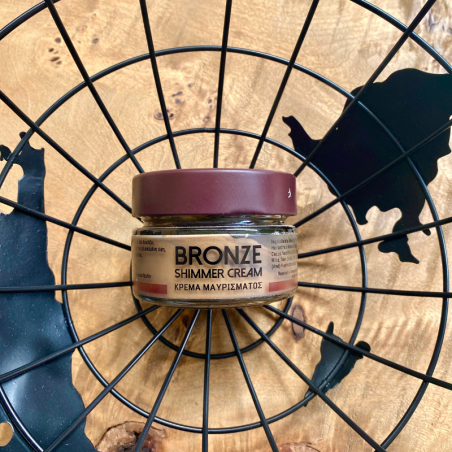  
Bronze shimmer cream
Reference: 5210146002928

Instant Delivery / Shipping in 1 to 3 working days
Tanning cream for uniform, natural color and golden glow on face and body. Natural tan, without
chemical processes and with a unique summer fruity aroma.
3 in 1
-natural tan
-artificial tan
-after sun care
For a glowing and tanned skin with a golden glow all year round and a healthy result that lasts. With a
natural sunscreen due to the active ingredient and intense soothing action thanks to the aloe gel. For deep
hydration, nourishment, soft and silky skin. With a light and non-greasy texture, it spreads easily, absorbs
quickly, does not stain.
Tanning Ingredients: Carrot oil, aloe vera gel, coconut oil, almond oil, shea butter, mint flower water,
active ingredient Astaplancton HA, peach-mango aroma, mica color, Polawax emulsifier & Microc
preservative.
106ml
How to apply:
- Exfoliate the whole body. Apply moisturizer to the knees and elbows to avoid blemishes or
discoloration.
- Apply a sufficient amount all over the body or face. Spread well and evenly, with the direction of the
soles upwards. If you apply the cream with your hands, be sure to wash your hands immediately after
application.
- Wait a few minutes for the product to be absorbed by your skin.
- The intensity and duration of the color depends on the amount used and the frequency of applications.
Keep the tanning cream in a cool environment!
Barcode 5210146002928
16 other products in the same category: