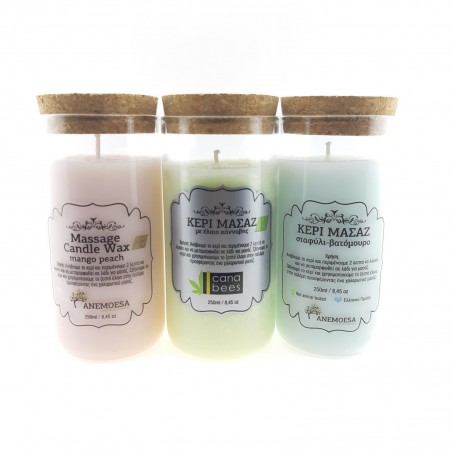  
Massage candle 250ml (for professional use)
Reference: 5210146000207

Instant Delivery / Shipping in 1 to 3 working days
(€19.30 χονδρική τιμή, χωρίς ΦΠΑ)
Offer your customers unique moments of relaxation!
Light the aromatic massage candle, based on the olive (not paraffin), and wait 2 minutes until it melts and transforms into a massage oil. The space will be filled with the wonderful aroma of hot chocolate or the cool aroma of grapes or peach-mango.
Extinguish the candle and use the hot oil on the palm offering a relaxing massage.
The feeling of warmth as the hot wax spreads on our skin, in combination with the texture of the oil and the enchanting aroma, creates a sweet atmosphere.
The melted wax is absorbed directly by our skin, giving hydration and relaxation.
Ingredients: Olive based massage candle, in many impressive options:
250gr
What makes it different:
-100% natural, based on olive and not paraffin, like most of the trade.
-In 2 minutes after lighting, the candle has been transformed into massage oil.
-Relaxing feeling of warmth.
-Immediate absorption by the skin, giving hydration and relaxation.
-Suitable for all skin types.
Customers who bought this product also bought: